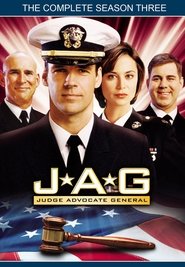 JAG Season 3 Episode 20
Clark Palmer, a renegade government agent, breaks into Harm's apartment and incapacitates him. Palmer then makes a cast of Harm's face in order to prepare a mask that he can wear to pass for Harm. Palmer plans to murder the key witness in the trial at which Harm and Mac are currently prosecutors.
When Harm doesn't show up for the start of the trial, Mac takes his place, leaving Bud to search for the missing JAG lawyer. When Bud finds Harm trapped in an ingeniously booby-trapped apartment, the two must find a way to escape before the assassin can carry out his plan.
Episode Title: Imposter
Air Date: 1998-04-21
Year: 1998
//image.tmdb.org/t/p/w300/eS1QlgmYr1fxMeR921XIeSC6UHK.jpg" alt="JAG Season 3 Episode 20" />