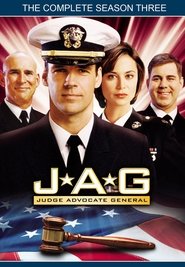 JAG Season 3 Episode 23
Bud has his hands full when his obnoxious and abusive father, Big Bud, and his younger brother, Mikey, arrive in town for his wedding. Big Bud throws a stag party at a boisterous strip club where Harm's dress whites end up on the body of a stripper. A fight breaks out and Harm, Bud and Chegwidden find themselves in the slammer on the day of the wedding.
While Mac goes downtown to bail them out, Harriet begins to have second thoughts about the imminent nuptials.
Episode Title: Wedding Bell Blues
Air Date: 1998-05-12
Year: 1998
//image.tmdb.org/t/p/w300/xxkDMzRnVXU62WXUET8IS6vXJ2a.jpg" alt="JAG Season 3 Episode 23" />