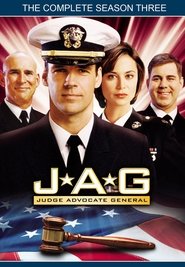 JAG Season 3 Episode 4
Harm risks ending the career of his mentor, as well as their friendship, when he investigates a training accident that killed two civilians.
When an F-15 has a mid-air accident and the occupants are forced to eject, a mother and her child are killed on the ground by the falling debris. Mac is assigned to represent the pilot as Harm investigates the cause of the accident and the leader of the training mission, Capt. Hachausen, his former flight instructor and mentor. When Harm's probe reveals that the captain's been covering up problems with his eyesight and the pilot of the plane is covering up for the captain, Harm must decide whether to reveal his findings — information that would certainly end his mentor's career.
Episode Title: Blind Side
Air Date: 1997-10-14
Year: 1997
//image.tmdb.org/t/p/w300/fq8nLIG0aBLdBfhFAfMCfm6aUel.jpg" alt="JAG Season 3 Episode 4" />