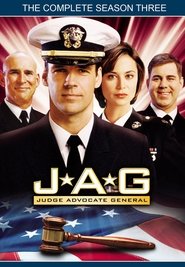 JAG Season 3 Episode 9
Harm & Bud are sent to Twenty-nine Palms Marine Base to investigate the mid-air collision of 2 helicopters & subsequent crash of one helicopter which killed the pilot.
Upon arrival at the crash site, they learn that the ""other"" aircraft was not another helicopter as was first thought. A piece of wreckage that is found that belongs to the ""other"" aircraft only deepens the mystery. When members of the Defense Security Division appear onscene with orders to take over the investigation and crash site, Harm becomes convinced that a major cover-up is in the works.
The base commander, Col. Barrett gives Harm time to investigate further. When Harm & Bud are out driving the base at night, they see an unknown type aircraft flying above them and follows it, but are soon blocked by a fence over the road marking the property of the ""Bradenhurst Corporation"". Even though the signs indicated that ""Deadly Force has been authorized"", Harm crashes the gate to follow the aircraft, but they are both
Episode Title: Impact
Air Date: 1997-11-18
Year: 1997
//image.tmdb.org/t/p/w300/1FT3doKd2daSjVQaaVF6E5lKoZR.jpg" alt="JAG Season 3 Episode 9" />