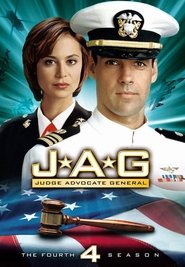 JAG Season 4 Episode 15
When Navy SEAL Medal of Honor winner Lt. Curtis Rivers is fired upon while on a training mission, he returns fire only to discover that he has shot a seemingly unarmed 14-year-old boy. During Harm and Mac's investigation, they discover that the boy may have been accompanied by his uncle, a fugitive wanted by the F.B.I.
When Rivers goes AWOL to track down the fugitive and is captured by separatists, Harm and Mac find themselves not just investigating the case, but trying to defend Lt. Rivers in a court that does not recognize the U.S. government and its laws.
Episode Title: Rivers' Run
Air Date: 1999-02-16
Year: 1999
//image.tmdb.org/t/p/w300/3oR7hatMEDhazXoNa0PI5UYX3Db.jpg" alt="JAG Season 4 Episode 15" />