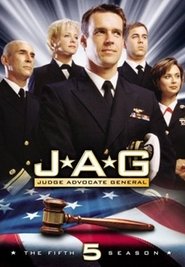 JAG Season 5 Episode 12
Harm and Mac stumble upon a miscarriage of justice in a 10-year-old case when they tutor a group of law students in a mock trial.
In the original case, an investigation team headed by Admiral Chegwidden concluded that a disgruntled gun captain caused an explosion that killed 29 sailors, including himself. But when the ""defense attorney,"" helped by Mac, and the ""prosecutor,"" helped by Harm, retry the case, a new witness and new evidence are uncovered, prompting Mac and Harm to request that the original hearing be re-evaluated.
Episode Title: Into the Breech
Air Date: 2000-01-11
Year: 2000
//image.tmdb.org/t/p/w300/31AVhGbfxXuVvBbROWtqMlLB3Aj.jpg" alt="JAG Season 5 Episode 12" />