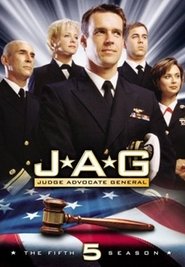 JAG Season 5 Episode 13
Mac is assigned the personally distasteful task of representing a fellow Marine who is appealing his death sentence for the murder of three other Marines. She believes that the defendant, Kenneth Farmer, should receive the death penalty, but she must argue otherwise in court. Brumby, who doesn't believe in capital punishment, must argue in favor of it.
However, in attempting to overturn the original guilty verdict, Mac must argue inadequate counsel by the corporal's previous lawyer: then-Commander A.J. Chegwiggen. The appeals court lets stand the original guilty verdict, but orders a new sentencing hearing.
Mic is recalled by the Royal Australian Navy and must leave within 72 hours. As a result, Harm is assigned to replace Brumby at the new sentencing hearing. Despite Mac's arguments to the defense of Corporal Farmer that was not raised by then-Commander Chegwiggen, Corporal Farmer is again sentenced to death.
Admiral Chegwiggen throws a goodbye party for Mic at the local bar. Ever
Episode Title: Life or Death
Air Date: 2000-01-18
Year: 2000
//image.tmdb.org/t/p/w300/kdR7pn0P3MVZRYZEFvCYrVBKOPI.jpg" alt="JAG Season 5 Episode 13" />