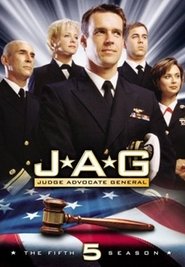 JAG Season 5 Episode 25
Bud's underachieving brother is accused of making a mistake during a training exercise that nearly killed 15 Marines. But establishing his innocence proves to be a difficult task, thanks to the age-old tension between the Navy and the Marines.
Adm. Chegwidden frets over a speech he must give when he is to be given an award.
Mic Brumby returns unexpectantly to the States; Mac & everyone are stunned when he announces that he has resigned his Royal Australian Navy commission so that he could move to the USA and be by the ""woman he loves.""
Episode Title: Surface Warfare
Air Date: 2000-05-23
Year: 2000
//image.tmdb.org/t/p/w300/r28U4UF4QswO46IihrH64NoqLs1.jpg" alt="JAG Season 5 Episode 25" />