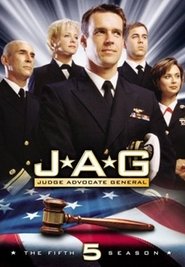 JAG Season 5 Episode 9
Harm faces a court-martial when a letter critical of the President appears on the Op-Ed page of a newspaper and is traced to his computer.
As an investigation threatens Harm's promotion as well as his entire career, a well-known conservative organization offers to represent him and Harm accepts. The key to Harm's defense is to find the actual letter-writer, so Bud digs through Harm's old case files searching for those with an axe to grind.
Serie: JAG
Director: Jeannot Szwarc
Guest Star: Anne-Marie Johnson, Chuck Carrington, Karri Turner, Kenneth Kimmins, Kristin Dattilo, Michelle Clunie, Michelle Stafford, Molly Hagan, Peter Murnik, Randy Vasquez, Trevor Goddard, Vasili Bogazianos
Episode Title: Contemptuous Words
Air Date: 1999-11-23
Year: 1999
//image.tmdb.org/t/p/w300/dNsCxiFREro7txEXiSqK0H5ADK8.jpg" alt="JAG Season 5 Episode 9" />