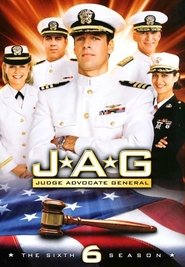 JAG Season 6 Episode 1
While Harm is sent to Russia to help the Russians find a better way to implement their military justice procedures, Mac and Bud remain behind to prosecute a Naval commander charged with selling military secrets to the Russians. Once in Russia, Harm becomes involved in investigating high level corruption in the military.
Meanwhile, Mac is on the verge of making a deal with the traitorous Naval officer when he and his lawyer are murdered. Mac and Webb then discover that the traitor was linked to a Russian assassination plot. But Mac's attempts to alert Harm fail, and he is caught in an ambush with a Russian who reveals the life-changing secret to him.
Episode Title: Legacy (1)
Air Date: 2000-10-03
Year: 2000
//image.tmdb.org/t/p/w300/onVDmwSQmTl63oxptIj5jS2eFj3.jpg" alt="JAG Season 6 Episode 1" />