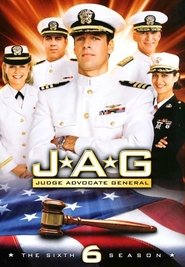 JAG Season 6 Episode 5
Mac comes under the glare of media scrutiny when she's named to prosecute in JAG's first televised court martial.
As Mac prepares for her televised prosecution of an innocent looking young ensign accused of murdering her husband's teenage girlfriend, she learns that her opponent is none other than Juanita Ressler, who was her professor in law school. Ressler is a very media-savvy trial attorney who uses every trick in the book to swing the media and the public over to her client's side.
Harm travels out to sea to investigate the death of a sailor aboard a carrier. Originally thought to be a suicide, Harm discovers evidence to the contrary.
Serie: JAG
Director: Scott Brazil
Guest Star: Christopher Daniel Barnes, Chuck Carrington, Clyde Kusatsu, Craig Kilborn, David Naughton, Gloria Allred, Hayley DuMond, Johnnie Cochran, Julia Nickson, Marc Gomes, Mary Hart, Nanci Chambers, Randy Vasquez, Robert LuPone, Sean Murray, Stephen Snedden
Episode Title: JAG TV
Air Date: 2000-10-31
Year: 2000
//image.tmdb.org/t/p/w300/hefEuknlm5kaKio9QpX5HGm6ZS4.jpg" alt="JAG Season 6 Episode 5" />